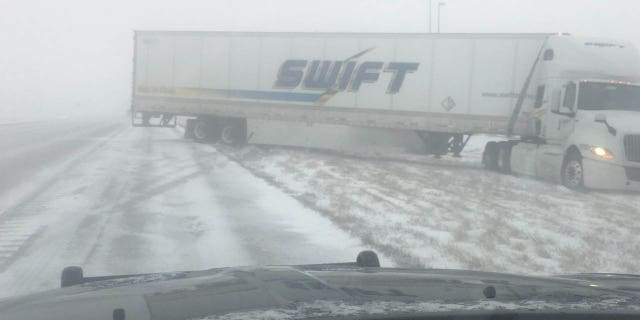 A vigorous winter storm across the nation's midsection may throw a wrench in plans for millions of Americans making their way home on Sunday on one of the busiest travel days of the year.
The
National Weather Service said
that the winter storm is expected to bring near-blizzard conditions from the Central Plains into the Great Lakes, impacting the Kansas City and Chicago metro areas the hardest.
"It's going to impact many going home after this long holiday weekend," Fox News' Chief Meteorologist Rick Reichmuth said Sunday on "
Fox & Friends
."
Heavy snow is expected to fall
throughout the day on Sunday
, with many areas seeing between 6 to 12 inches from eastern Kansas, Iowa, Northern Missouri and into Illinois. Some places may see up to 18 inches and strong winds, according to the NWS.
"We'll see some spots over a foot of snow, a lot of places 6 to 12 inches, and that means a lot of troubles all over the roads," Reichmuth said.
In Illinois, state officials warned drivers that conditions are expected to deteriorate throughout the day, with heavy snow, high winds, and "much longer travel times" to be anticipated.
"This storm is expected to hit at a time when millions of people are on the roads, heading home after visiting friends and family," Illinois Transportation Secretary Randy Blankenhorn
said in a statement
. "Please take all necessary precautions, including altering travel plans to leave early or asking yourself if your trip can wait."
At Chicago's O'Hare International Airport, the sixth-busiest in the world, at least 197 flights were canceled as of Sunday morning,
according to flight tracking website FlightAware
. Nationwide, FlightAware reported that nearly 500 flights were canceled on the last day of the Thanksgiving holiday weekend.
Airline travelers brace for delays as they head home from Thanksgiving; Jacqui Heinrich reports from LaGuardia Airport in New York.
The site reported that the majority of the cancellations are flights that were supposed to be routed through Chicago or Kansas City -- two areas forecast to be hit hard.
Several airlines that operate out of Kansas City International Airport were waiving fees for rebooking flights due to the storm,
FOX4 reported
.
Many in the region decided to hit the road on Saturday in order to beat the oncoming storm, filling area gas stations.
"I`m a college student at Mizzou and I`m trying to beat the storm back," graduate student Sydney Eastman
told FOX4
. "When I saw the weather, I thought I better get out of here now."
In Nebraska, the state highway patrol
said that
Interstate 80 was closed westbound from Mahoney to Lincoln because of "multiple crashes."
Multiple crashes were reported on Interstate 80 in Nebraska due to the snow. (Nebraska State Patrol)
Authorities in Kansas said that Interstate 70 was shut down in several places Sunday morning due to drifting snow, and several crashes were reported.
Kansas Highway Patrol Public Information Officer Tod Hileman posted a video to Twitter showing the conditions, which read: "We have 100% snowpacked & iced roads with drifting. Winds are near 45 to 50 at times. There are many slide offs. We have jackknifed semi's in Gove, Ellis and Russell Counties!"
For those who decide to wait to let the storm pass, conditions are expected to improve by Monday across the region with partly-sunny skies and temperatures into the 30s, according to the NWS.
SOURCE


https://www.foxnews.com/us/winter-storm-bring-hazardous-conditions-across-midwest-during-post-thanksgiving-travel-rush