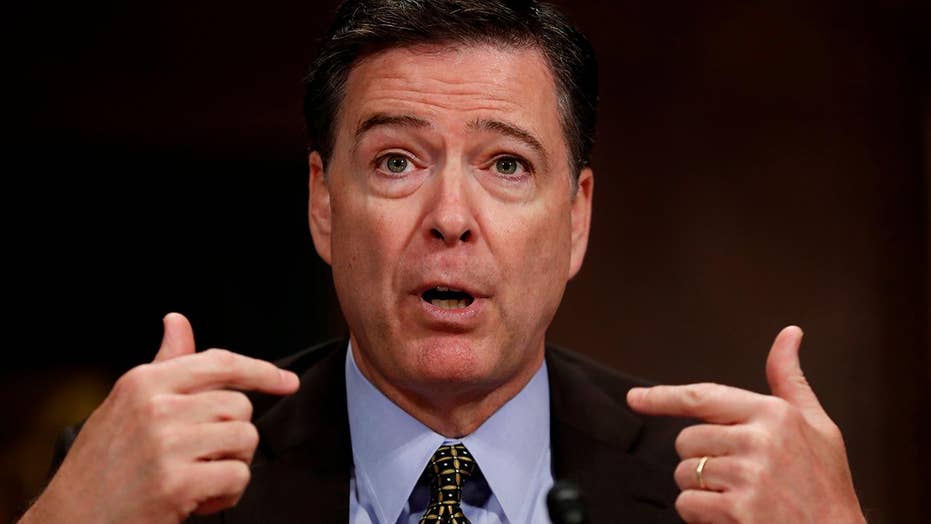 Ex-FBI director admits to using personal email account for 'incidental' purposes while overseeing the agency's probe into Hillary Clinton
James Comey used his private email account to conduct FBI business while serving as the head of the federal agency, according to hundreds of pages of his correspondence obtained by a political watchdog.
The emails were released after a Freedom of Information request by the Cause of Action Institute and appear to support the claim made by Mr Comey that he generally used his private account for "incidental" purposes while serving as the head of the agency.
Approximately 1,200 pages of messages were obtained according to the
New York Post
,
although the
Justice Department
reportedly declined to release at least seven emails, saying the information would "disclose techniques and procedures for law enforcement investigations or prosecutions".  
But the released emails appear to support comments Mr Comey
made
in interviews with the Justice Department's internal watchdog, in which he admitted to using his Gmail account for word processing at home when he was writing longer messages for work. Several of the emails sent to his personal account were transmitted at the time in which Mr Comey oversaw the agency's investigation into Hillary Clinton's emails.
He has since called the emails "incidental" and said he typically forwarded them to his government account.
During his interviews for the agency's inspector general report, Mr Comey said he wasn't sure if that was in accordance with FBI regulations, but had checked it with another official and he "had the sense that it was okay".
Sarah Sanders: Donald Trump considering revoking Comey security clearance due to 'politicising' and 'monetising' his clearance
The inspector general eventually said Mr Comey had not followed regulations.
The CEO of Cause of Action disputed Mr Comey's position on his email use, saying in a statement to the
New York Post
: "Using private email to conduct official government business endangers transparency and accountability, and that is why we sued the Department of Justice … We're deeply concerned that the FBI withheld numerous emails citing FOIA's law enforcement exemption. This runs counter to Comey's statements that his use of email was incidental and never involved any sensitive matters."
The inspector general previously revealed Mr Comey's use of personal email in its report about the
FBI's
handling of the investigation into Ms Clinton's email practices and whether she mishandled classified information as secretary of state.
SOURCE
https://www.independent.co.uk/news/world/americas/us-politics/james-comey-private-email-gmail-account-sensitive-classified-hillary-clinton-investigation-a8629006.html