Remember this day when the Guardian permitted a serial fabricator to totally destroy the paper's reputation.
Wikileaks is willing to bet the Guardian a million dollars and its editor's head that Manafort never met Assange.
HERE IS THE GUARDIAN ARTICLE:
Manafort held secret talks with Assange in Ecuadorian embassy
Exclusive: Trump ally met WikiLeaks founder months before emails hacked by Russia were published
Donald Trump's former campaign manager
Paul Manafort
held secret talks with
Julian Assange
inside the Ecuadorian embassy in London, and visited around the time he joined Trump's campaign, the Guardian has been told.
Sources have said Manafort went to see Assange in 2013, 2015 and in spring 2016 – during the period when he was made a key figure in Trump's push for the White House.
It is unclear why Manafort wanted to see Assange and what was discussed. But the last meeting is likely to come under scrutiny and could interest
Robert Mueller
, the special prosecutor who is investigating alleged collusion between the Trump campaign and Russia.
A well-placed source has told the Guardian that Manafort went to see Assange around March 2016. Months later
WikiLeaks
released a stash of Democratic emails stolen by Russian intelligence officers.
Manafort, 69, denies involvement in the hack and says the claim is "100% false". His lawyers declined to answer the Guardian's questions about the visits.
Manafort was jailed this year and was thought to have become a star cooperator in the Mueller inquiry. But on Monday Mueller said Manafort had
repeatedly lied to the FBI
, despite agreeing to cooperate two months ago in a plea deal. According to a court document, Manafort had committed "crimes and lies" on a "variety of subject matters".
His defence team says he believes what he has told Mueller to be truthful and has not violated his deal.
READ MORE HERE:
https://archive.fo/pUjrj#selection-1627.0-1671.104
-------------------------------------------------
HERE IS WIKILEAK'S BET ON TWITTER:
https://twitter.com/wikileaks/status/1067430101548027906
------------------------------------------------
The authors of the bogus Guardian story, Dan Collyns and Luke Harding, were in Ecuador 10 days ago with US-funded Villavicencio, who they have previously bylined with in bogus stories. This picture was taken last week.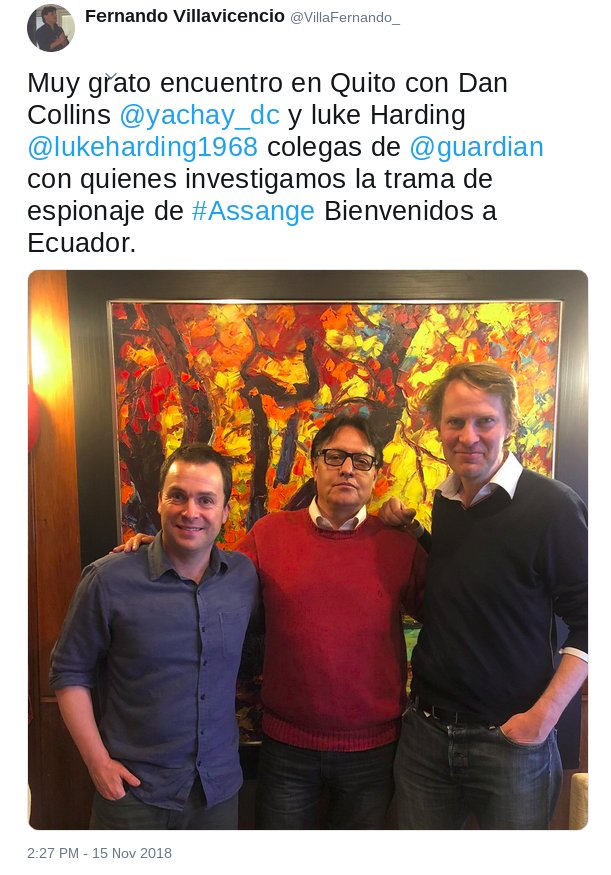 https://twitter.com/AssangeLegal/status/1067435292745854995