After House Speaker Nancy Pelosi (D-Calif.) asked the president to move the date of the State of the Union address due to the partial government shutdown, Sen. Rand Paul (R-Ky.) suggested President Donald Trump continue with his speech but proposed he give it somewhere else.

Pelosi's offer to the president on State of the Union

The House speaker
wrote
a letter to the president on Wednesday suggested that "unless government re-opens this week," the State of the Union — set for January 29 — should be pushed back until the partial government shutdown ends. Or, she said he should consider delivering it in written form to Congress.
Pelosi cited "security concerns" as her request to postpone the address.

Read her letter below: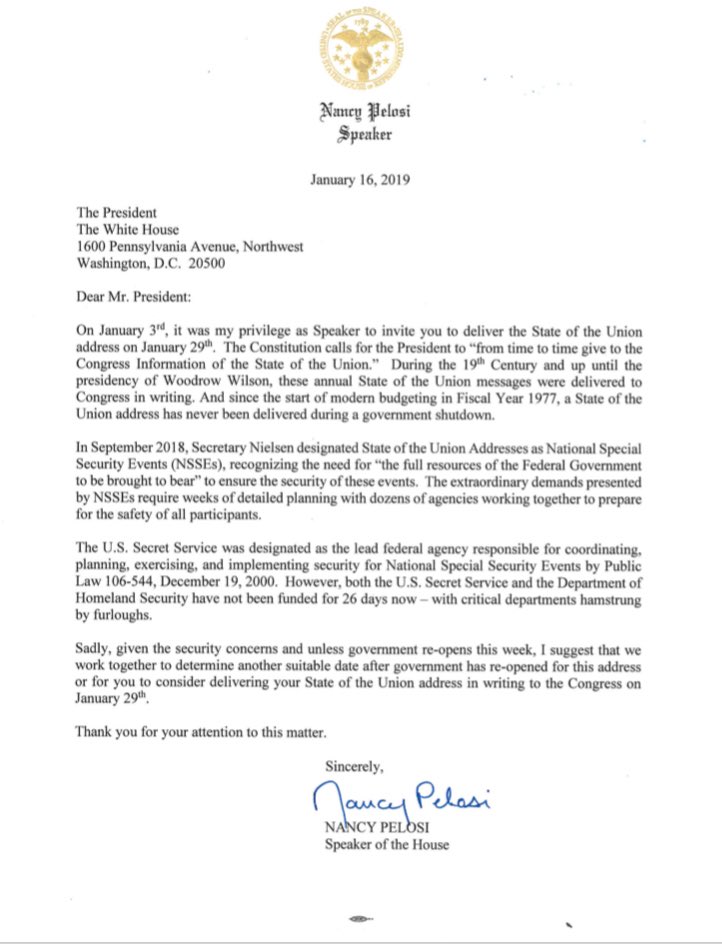 Rand Paul suggests a different location

The Republican senator said Pelosi's request is a "real affront to the American people," he
told
"Fox & Friends."
Paul then suggested that if the House won't allow President Trump to deliver his State of the Union address then he should deliver it in the Senate instead — it is traditionally held in the House.
"What I would suggest is — Senator McConnell's in charge of the Senate; let's host it in the Senate," Paul said. "This would be the first time in history that the House would deny the president the forum of speaking. If she's going to do that, let's hold it in the Senate."  
GOP fires back at Pelosi's comment to move Trump's speech
Zach Gibson/Getty Images
Paul's interview comes on the heels of Sen. John Kennedy (R-La.)
telling IJR
the president is welcome to come to the Senate.
"I just think it's petty. It's petty," Kennedy said.
"We both know why she's doing it. It's just another poke at the president. I think they need to stop poking each other and try to come to the table and work this out. If I were the president, I would hold it. He can come to the Senate."
Sen. Ted Cruz (R-Texas)
said
Pelosi's letter made it clear "just how extreme and radical congressional Democrats are."
House Republicans also took a swipe at Pelosi's comment, including House Minority Whip Steve Scalise who
asked
: "What are Democrats afraid of Americans hearing?"
Others who rebuked Pelosi include Rep. Dan Crenshaw who
called
on her to "stop with the political stone-throwing and posturing."
"It's a terrible precedent to set to disinvite the president from the State of the Union," Crenshaw said.
Despite Pelosi's concern for the security of the event, Secretary Kirstjen Nielsen said the Department of Homeland Security and U.S. Secret Service is "fully prepared" to secure the State of the Union, as
IJR Red
reported.    
SOURCE
https://ijr.com/rand-paul-idea-pelosi-sotu-senate/